What are Audit Reports?
Audit Reports provide buyers with critical facts concerning the Audited Supplier's; such as business licenses and production capabilities and quality control systems. Audit Reports assist you select the relative quality suppliers. Audit Reports are produced by world's leading professional inspectors including SGS.
What is this?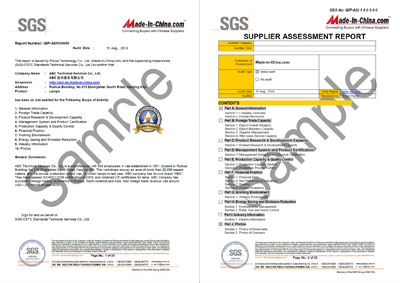 The SGS audit report contains the following information:
General Information
Know that the company you are dealing with is officially registered and licensed.
Foreign Trade Capacity
Check your supplier's exporting and trading ability.
Product Research & Development Capacity
Know how much R&D went into your supplier's products can help you make better choices.
Management System and Product Certification
Check to make sure your supplier has passed Quality Management Systems or Product Certifications.
Production Capacity & Quality Control
Be assured that your supplier can meet your production needs and use quality control systems and measures.
Financial Position
Check your supplier's credit history and development plans.
Working Environment
Be assured that your supplier has focused the labor protection.
Energy Saving & Emission Reduction
Be assured that your supplier has focused the sustainable development.
Industry Information
Know deeply about suppliers of some specific industries.
Photos
See your suppliers factory lines, production equipment, offices and staff.
What are Audited Suppliers?
With thousands of Chinese supplier members on Made-in-China.com, one problem that many buyers face is, how to differentiate between suppliers. SGS, the world's leading inspection, verification, testing and certification company, personally and individually audits our Audited Suppliers to make sure they meet world class standards.
As a result, when you choose an Audited Supplier, you:
Save Money and Time
Save money and time by eliminating the need to personally inspect factories or manufacturing sites.
Get Straightforward Facts
Get accurate and reliable third-party information about your future partner.
Increase Confidence
Increase your confidence in doing business with trusted and professional Chinese companies.
Succeed
Simply put, Made-in-China.com helps you succeed.