3D Demo
Tired of display products online in a simple way?
Roll over in 360 degrees, zoom in and out, and change color and material of products at will. Sounds cool?

3D Demo makes your dream come true. More buyer's eye-balls, impressive visual effect and user experience.
More and more enterprises are used to displaying their products online. A picture with some description is their usual way. But you deserve more. You need to show or see functions and structures dynamically and vividly.
Presented by Made-in-China.com, 3D Demo uses the latest 3D visual model technology to display your products online in full views.
Best for physical goods, 3D Demo shows your products' appearances, functions and structures in 3D online.
Take a look at our Suppliers with 3D Demo
3D Demo lets you:
Display more details of your products;
Allow visitors to interact with your products;
Demonstrate the features, functions and structure of your products dynamically;
Attract more buyer's attention on Made-in-China.com.
How to make a 3D Demo: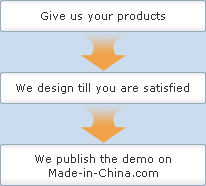 Feel interested?
Just tell us now
!