What is TopRank?
TopRank is one of our premium promotion programs, which allows your company or product listings to receive top rankings in the relevant search results on Made-in-China.com, or within the specific product categories.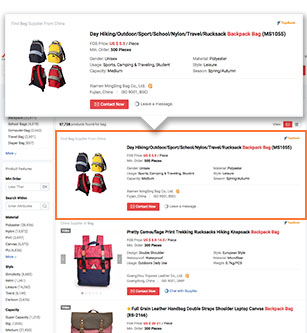 Highly Targeted
We assure that your TopRank listings appear only in the most relevant search results, or categories. The readers of your promotion are just the buyers that you desire.
Highly Focused
A survey we've conducted indicates that our TopRank clients receive more clicks from buyers, far more compared to non-TopRank clients, along with an obvious increase in the traffic of their own websites. Our TopRank brings you more potential buyers based on highly targeting.
Trust, this method works!
We have so far established a large base of TopRank clients, many of whom have been able to multiply their sales via this service.
Not a TopRank user yet? Prepared to boost your business on Made-in-China.com? Subscribe to TopRank today!

Why choose TopRank?