Promotion Options of Made-in-China.com
TopRank - Priority Search Results Ranking
With regards to our statistical studies, companies with high search result ranking/position will receive more attention from the visitors of Made-in-China.com than companies with low search result ranking/position. Moving your company/product/website to the top positions of our search results will increase the number of visitors by 300% or more, and as a result, your web-site traffic and sales will increase.
Obtaining a position that shows your products on the FIRST PART of search results will dramatically increase the traffic to your web site, and more traffic equals more sales! For commercial enterprises relying upon the Internet to sell their products or services, gaining top web position is the primary goal, since top web positioning will inevitably lead to more customers exploring your web site. TopRank, our latest search result ranking service, will help you to get the most attention from visitors of Made-in-China.com!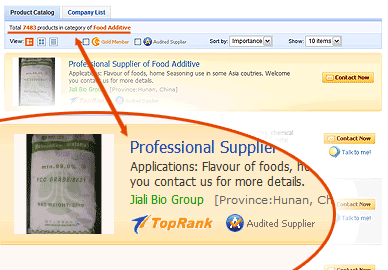 Who should promote:
China products suppliers
Who will read your promotion:
Buyers who conduct searches which match your product keyword or category
Where will be your promotion displayed:
Guaranteed top 10 listings of product keyword search result.
Guaranteed top 10 listings of product category search result.

Click to learn more about TopRank
Other Promotion Options of Made-in-China.com